FCC has Released the Emergency Connectivity Fund - $7.17 Billion Available!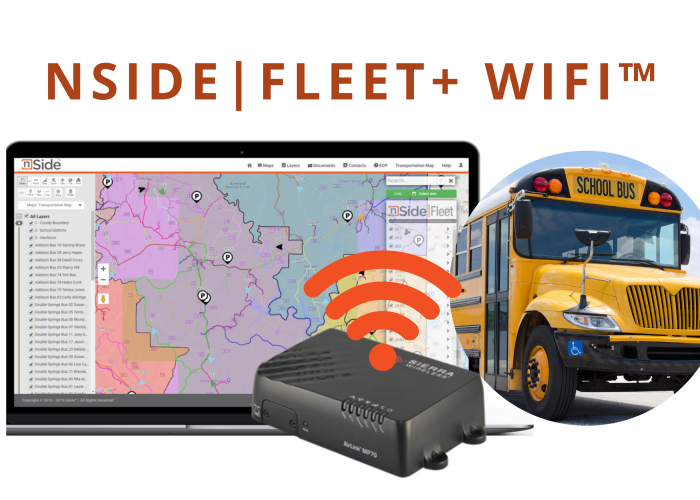 How Can nSide Help?
nSide – The School Safety Platform offers a mobile WiFi solution that gives your students the best opportunity for distance learning: nSide|Fleet+WiFi! The mobile Wifi solution can be installed on school buses and our team can provide a plan for deployment. Our technology solutions ensure a safe learning environment and we provide the best-in-class solutions all together in one platform.
Key Features:
nSide|Fleet + WiFi on school buses and or specific location
Customized, mapped site identification plan to maximize Distance Learning impact
Industrial ruggedized cellular routers for each bus/location
Hard installation kits with antennas for each bus/location
Up to 800ft of range
8GB per bus, per month of unthrottled data pooled, with a throttled unlimited backup plan
Dual SIM simultaneous multi-carrier connectivity (AT&T, Verizon, T-Mobile)

Failover options (multi networks, additional networks)

Up to 128 concurrent connections
Pool and share data across all devices
Usage & data reporting
CIPA-Compliant and customizable filters
nSide Data Management Portal

24/7 Live Chat
Statistical Dashboard
Customized Usage Reports
All School Safety in One Place
Each technology upgrade we offer seamlessly integrates with the nSide platform so you can manage all your school's safety technology in one place. This means that all members of your school's safety team, including administrators, SROs, law enforcement, EMS, and more can know ahead of time what to do in an emergency, and exactly how to react to save lives.

For more information, please contact:
nSide – The School Safety Platform