The Emergency Response Protocols were designed and created by the ALSDE Safe Schools Task Force members to assist school districts with local emergency planning efforts.
Emergency Response Protocols Timeline

June 27, 2018

Alabama State Superintendent of Education, Dr. Eric Mackey, issued a Memorandum to ensure all local education agencies were making efforts to (LEAs) standardize their school safety procedures and training.

June 2019

Governor Kay Ivey signed into law that the Emergency Response Protocols must be incorporated into each school's emergency operations plan.

April 2020

nSide as your School Safety Platform created multiple signage products to help schools with the implementation of these requirements.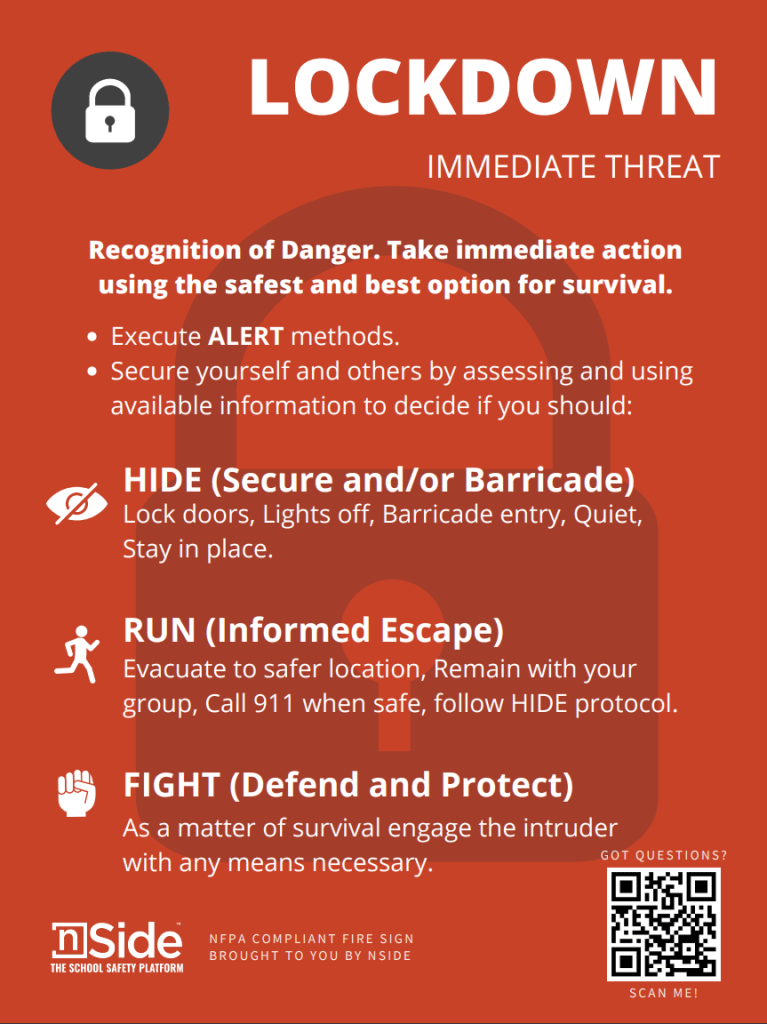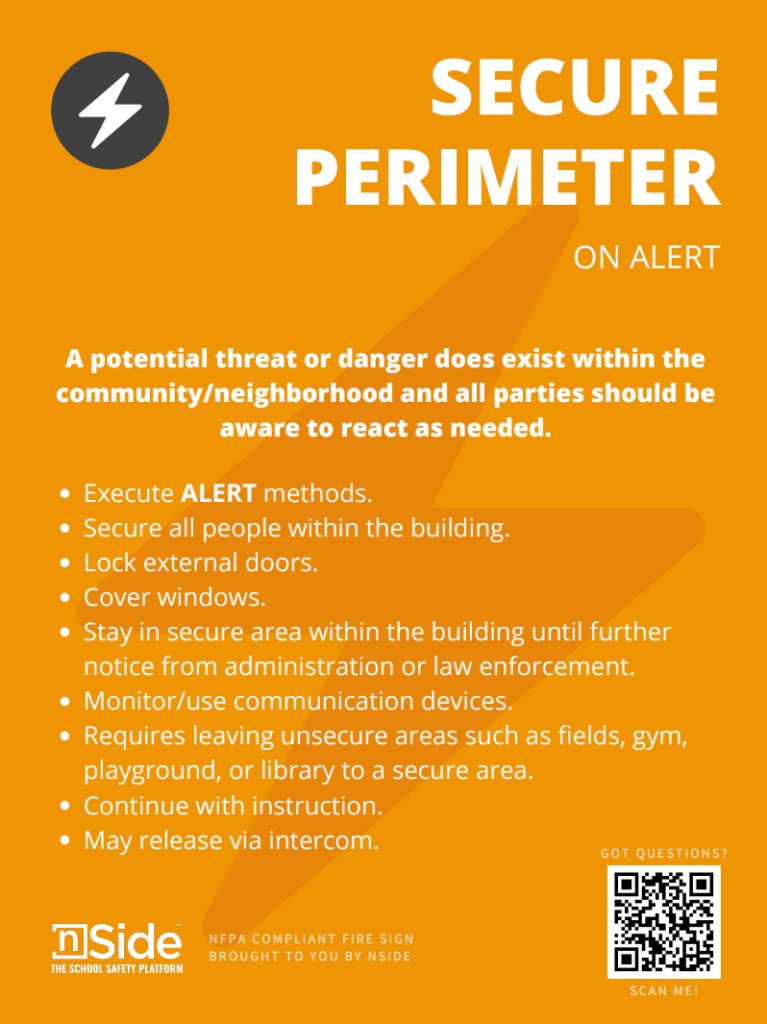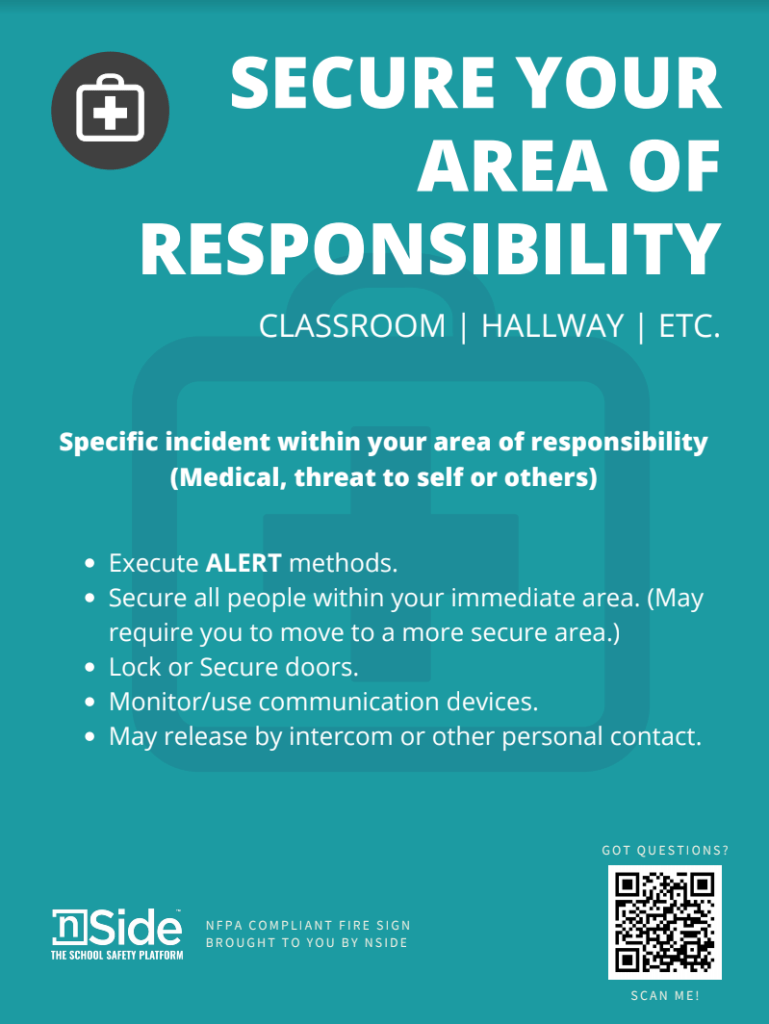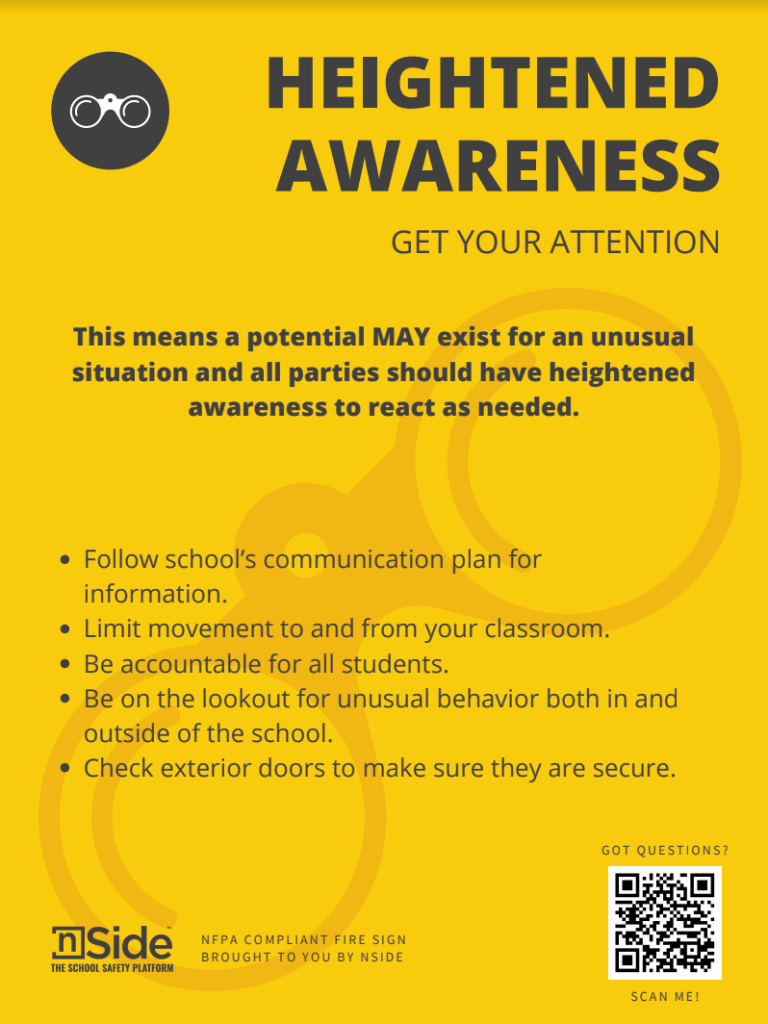 Description
The color-coded Emergency Response Protocol signs are designed to give schools a standardized outline to use when planning, writing, training and or drilling their local emergency operations plans. (EOP's) 
When used properly they will help school administrators to plan for and communicate a perceived or actual threat quickly.  With proper training and implementation, the Emergency Response Protocols help to achieve the desired reaction by staff, students, parents, media, and the general public during a critical incident.    
It is also Alabama Law: 
BE IT ENACTED BY THE LEGISLATURE OF ALABAMA: Sections 16-1-44 and 36-19-10 of the Code 14 of Alabama 1975
Key Benefits
The Emergency Response Protocols bring a simplistic and standardized process to the planning, training, and drilling of your Emergency Operations Plans (EOPs) 
The Emergency Response Protocols signage from nSide helps to increase knowledge and awareness of your EOP's directly to those who need to know.
Best Practices
To implement the color-coded Emergency Response Protocol signs into your schools' Emergency Operations Plan it is very important to know that it is now a requirement under Alabama law.  (Ala Code 16-1-44 and 36-19-10 of the Code 14 of Alabama 1975)
It's important to build your school's written Emergency Operations Plan, (EOP) using the ALSDE's guidance and State law as an outline. 
At nSide, we provide the technology, training, and personal assistance to help you design and write your Emergency Operations Plans (EOPs) and ensure you are meeting all ALSDE requirements as well as State/Federal Law.  To do this you need to include the Emergency Response Protocols in your plans, training, and drills. 
Building knowledge about and communicating your plan is a critical part of having an EOP that will actually work when you need it.  Posting the Emergency Response Protocol signage, as required by ALSDE, is a critical part of raising awareness and communication of your plan to everyone who has a need to know.  At nSide, we provide a number of tools to help you build knowledge about your plan and the terminology you plan to use.   
As required by ALSDE policy, make sure that your Emergency Response Protocols Signage is posted in ALL classrooms and locations throughout the schools where students will be located.
nSide School Safety Signs
These signs describe classifications of the Emergency Response Protocols for schools with specified procedures. Put these signs in classrooms and common areas where they are visible in case of an emergency.
To purchase these signs, visit our nSide|Marketplace.