In recent months, Gov. Bill Lee and the Tennessee General Assembly announced a one-time $40 million grant for Tennessee Public Schools and $14 million grant for Tennessee Non-Public Schools to invest in school safety improvements. This funding is an opportunity for schools to make necessary infrastructure upgrades and program implementations to create a safe environment for students and teachers.
What Can Schools Spend This Money On?
Emergency Operations Planning
Improving physical security (e.g. cameras, door locks, communication/emergency notification apps, etc.)
School Resource Officers
Violence Prevention Planning (e.g. Behavioral Threat Assessment)
Safety Training for Staff Members
Where Does nSide Come In?
There is no one answer to solving the issues surrounding school safety. That is why we offer a simple, unified platform that brings school safety information, technology, and personnel into one place. From EOP management to surveillance, to school safety training, nSide provides schools with a streamlined way to manage school safety.
View information and requirements for the Public School Funding here.
View information and requirements for the Non-Public School Funding here.
Emergency Operations Planning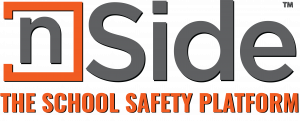 The nSide School Safety Platform is an innovative tool for emergency planning that brings all information, technology, and personnel into one place. Your schools can:
Create, manage, and store your emergency operations plans
Log drills and training
Endure state and local compliance
Organize contacts and information for school and district staff and community partners

nSide|Live gives schools a real-time view of their campus surveillance system within the platform.
Cameras visible and accessible on the nSide maps
State-of-the-art software and hardware
Placement assessments and installation by our certified team
Maintenance provided by nSide

nSide|Edge offers you comprehensive management of access to your facilities.
Secure the doors to all your facilities 24/7
Installation provided
Visible on the nSide maps for easy identification of controlled access points

nSide|Lockdown is a rapid emergency notification app that initiates urgest responses to a variety of emergencies.
4 types of emergency alerts: police, medical, fire, and lockdown
Instant alerts to admin and staff
Admin messaging capability
Dial 911 directly within the app
nSide|Assess helps your schools identify students in crisis and potential threats and collaborate with your team to give them the care they need.
Digital case management system
Multidisciplinary approach
A structured process for evaluating, helping, and following up with students to prevent crises

nSide has a team of school safety experts available to help your schools cultivate a culture of school safety, effectively plan for emergencies, and achieve compliance with all regulations.
School Safety 101 Training
Behavioral Threat Assessment Training
WICC Training
nSide Platform Basic Training
Interested in learning more about how nSide can help your school?