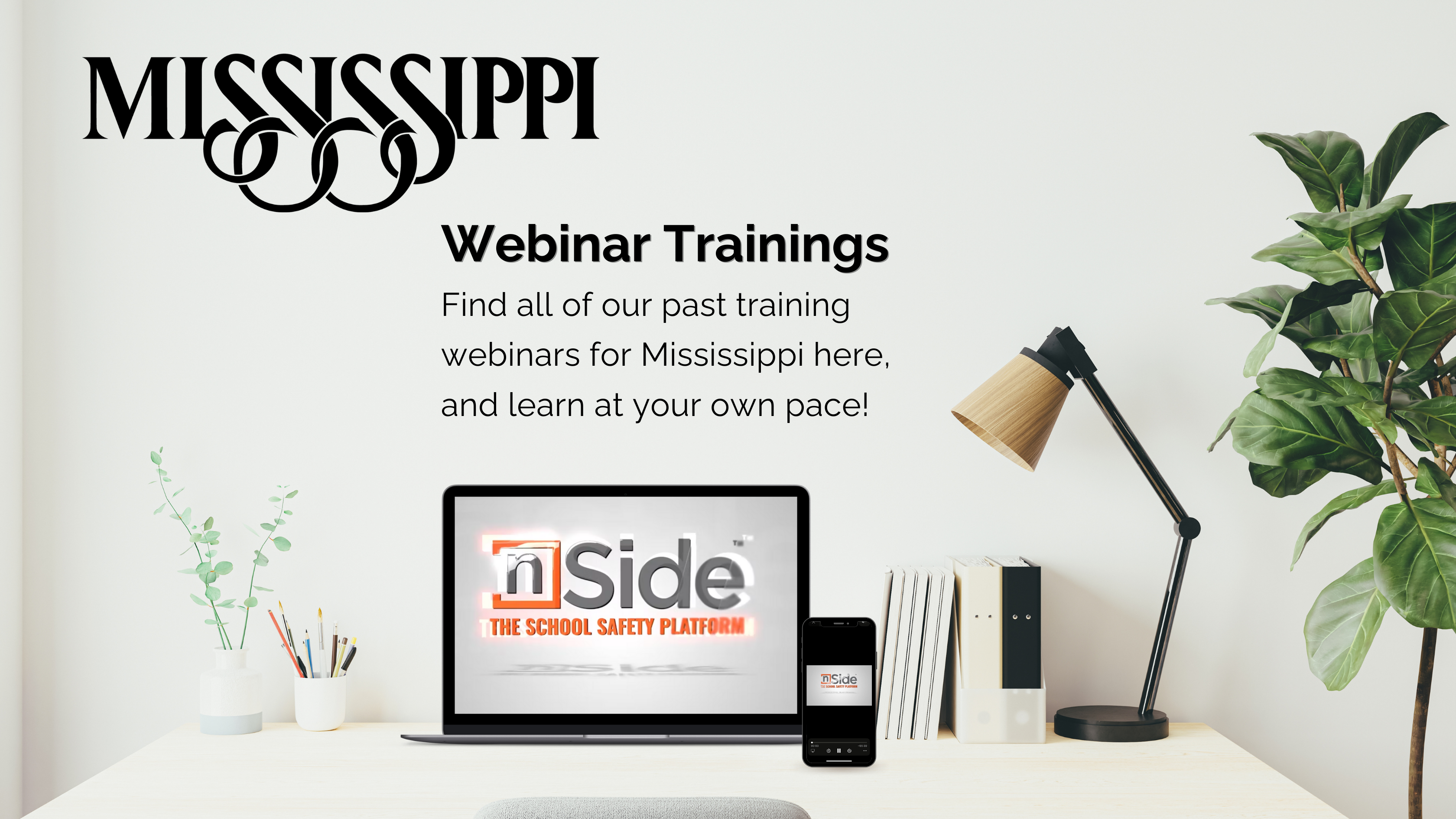 nSide has hosted a live webinar each week since the launch of the Mississippi Health and School Safety project in March 2022. Each webinar is listed below by topic and date. Please note that some topics were repeated 2-3 weeks in a row, and each individual recording is linked below each video.
Welcome Packet and Lockdown App (April 1, 2022)
In the first of our webinar series, we cover the ins and outs of the Welcome Packet that was digitally and physically mailed out to all Mississippi superintendents and principals. We also go over how to set your schools up to begin using the nSide Lockdown app. For reference, please see the Welcome Packet here.
This topic was also covered March 18 and March 25:
An In-Depth Look at the nSide Platform (April 26, 2022)
In this webinar, Proncey Robertson, nSide's Director of Training, guides us through the ins and outs of the platform and show you what the information you submit to nSide now will look like once we get your district onboarded.
This topic was also covered April 22:
A Technical Overview of the nSide Platform (May 20, 2022)
This webinar is an opportunity for Tech Directors and other stakeholders to get more in-depth information about the technical elements of nSide's Health and School Safety Platform. nSide Founder and CEO Dr. Steve McKinney hosts this webinar and answers questions from participants at the end.
This topic was also covered May 6 and May 13, 2022:
Understanding the nSide Mapping Process (May 27, 2022)
This webinar is intended to be an overview of the process we go through when we receive a school's floor plan. This includes:
What the mapping process entails
What districts can expect when the nSide team arrives on-site
What schools and districts will need to provide the team when while they are on-site
What schools and districts will be able to do within the platform after the nSide team has mapped and collected 360-degree photos
This topic was also covered June 3 and June 10, 2022: