Part 1: Infrastructure
Back-to-school preparations have begun, and as we decorate classrooms and organize planning meetings and orientations, it's important to make sure that safety remains our number one priority. School safety is complex, so it is helpful to break down the different components of a safe school environment. The first topic we are going to discuss is infrastructure safety.
It is no secret that children need to feel safe in order to learn effectively. Not only is reviewing the infrastructure of a school important for the physical safety of students and staff, it is also important for creating an environment that provides a consistent feeling of security and peace of mind. One thing is clear: Environment is crucial to student mental health and academic performance. Here are some questions to consider when reviewing the infrastructure of your school:
1. Have you mitigated classroom overcrowding?
This question is two-fold:
Are classrooms arranged in a way that students can safely move around and evacuate in case of an emergency?
Are classrooms spaced out in a way that helps students feel relaxed and not physically constrained and therefore stressed? Do students have enough space to prevent conflict? Does the arrangement of the classroom help or hurt student productivity and peace?
2. Are buildings sufficiently ventilated?
Check that vents are clear in all rooms, especially restrooms and classrooms.
Have HVAC units tested and maintained regularly.
Check windows to make sure they can both open and lock properly.
3. Are bathrooms well-maintained and free of plumbing issues?
It is vital for students to feel like they can use a clean restroom that is well-maintained. Not knowing if the restroom is going to be usable or safe can cause anxiety and affect students' mental well-being, especially students with health issues. Plumbing issues can become dangerous quickly, so maintaining plumbing regularly is extremely important.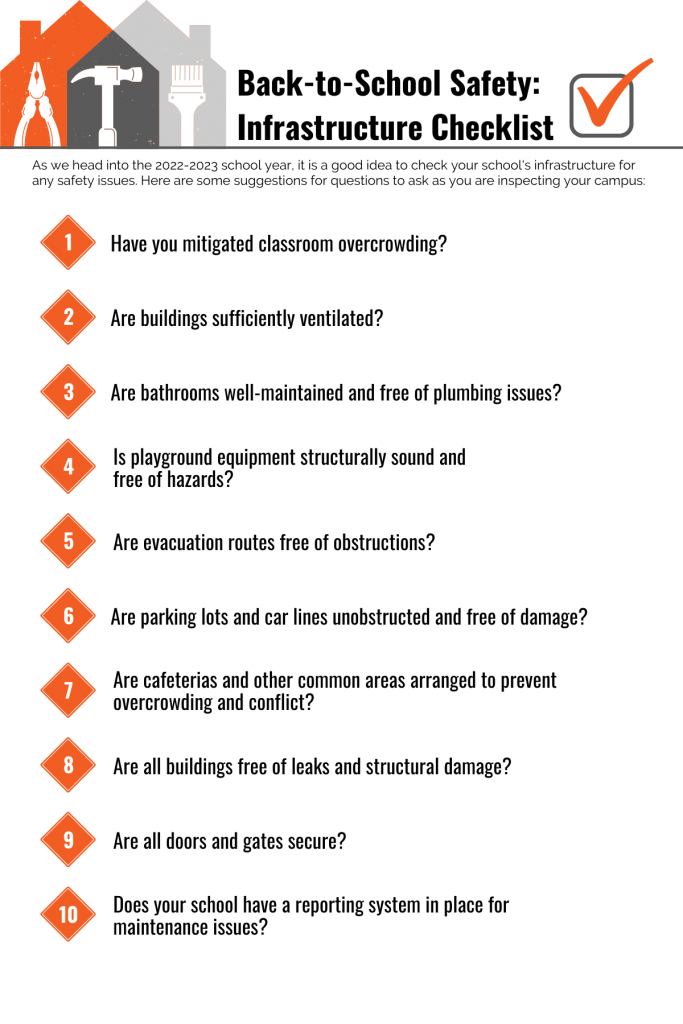 4. Is playground equipment structurally sound and free of potential hazards?
This may be an obvious one, but do a thorough inspection. Do not wait until a problem emerges to notice that there are issues. Have someone with structural knowledge evaluate the safety of any play equipment regularly so that accidents can be prevented as much as possible.
5. Are evacuation routes free of obstructions?
Most back-to-school training includes a review of safety procedures and evacuation plans. However, these plans can be recycled without much reevaluation some years, and that can be a grave mistake. Review evacuation routes with staff and ensure that these routes are kept free of any debris, obstructive vehicles, etc.
6. Are parking lots and car lines unobstructed and free of damage?
Again, maybe this one is obvious. However, take extra time to check for potholes, dips, debris, and other problems that may escalate if not remedied early.
7. Are cafeterias and other common gathering areas arranged to prevent overcrowding and conflict?
Evaluate the layout of these areas, as well as entrances and exits. Can students easily enter and exit the area? Can people easily walk between tables and cross to the exit quickly if needed?
8. Are all buildings free of leaks and structural damage?
Building maintenance in schools is a huge issue across the United States, especially with budget constraints and staffing shortages. However, it is literally the foundation of school safety. Classrooms that are structurally unsound, leaking or have a smell from plumbing issues can be distracting, uncomfortable, and even unsafe when students are trying to learn. Physical security should be the bare minimal expectation when students enter your institution.
9. Are doors and gates secure?
Even if you don't have a technologically-advanced security system, think of the basics: Can teachers easily lock their doors quickly? Are gates locked during school hours? Is entrance to facilities restricted and controlled? Review these issues thoroughly before students return to school.
10. Does your school have a reporting system in place for maintenance issues?
Make sure there is a plan in place for when infrastructure issues arise. When a staff member notices a leak or damage to a building, where do they report it so that immediate action can be taken? If no system is in place, create a simple way to report, and then train your staff to use it. Calls can get lost in the mix, and repeated, unaddressed reports can cause frustration and may result in the problem getting worse. Assign a staff member to organize reports and prioritize resolution of the problem.
---
Infrastructure is about more than brick and mortar building maintenance; it is about providing reassurance and an environment of safety that enhances learning and lets students and faculty know that nothing is more important than their wellbeing.
This list is just a starting point. Other factors to consider include making sure the main water shut-off is easily accessible, testing and inspecting electrical systems, as well as raising awareness among your faculty and staff so that they know what to look out for in these areas.
nSide is here to help make infrastructure safety monitoring easier for your school or district. Through the nSide platform, campuses can monitor locations of important infrastructure assets, so that when an issue arises, the situation can be mitigated as quickly and as efficiently as possible. HVAC and other infrastructure maintenance can also be logged and monitored directly on the platform, and nSide Maps makes it easy to plan detailed layouts of classrooms and common areas to prevent overcrowding.
Contact us today at help@nside.io and let us help you review your infrastructure safety plan and learn how to use the nSide platform most effectively to plan for the 2022-2023 school year!
Resources:
https://www.nsc.org/home-safety/seasonal-safety/back-to-school
https://digitallearning.eletsonline.com/2018/12/schools-infrastructure-a-key-element-of-students-learning-experience/
https://www.cisa.gov/blog/2021/11/10/infrastructure-security-month-keeping-nations-schools-safe-secure-and-resilient