The sun is setting behind the bleachers, and Friday night lights beckon football fans from around the community to come relive the beat of the band, the chants and cheers, and the buzzing energy from the sidelines of their high school days. There is a certain comfort in a Friday night game and the traditions that have survived for decades and created a culture of community pride and camaraderie.
When you walk through those gates and feel the energy of game day, does it feel safe? In the midst of the excitement, has the school prioritized a safe environment for community members? 
School safety does not end when school is dismissed. School safety is a culture that must extend to school sporting events and extracurricular activities where the general public is as much a part of the school community as students and staff.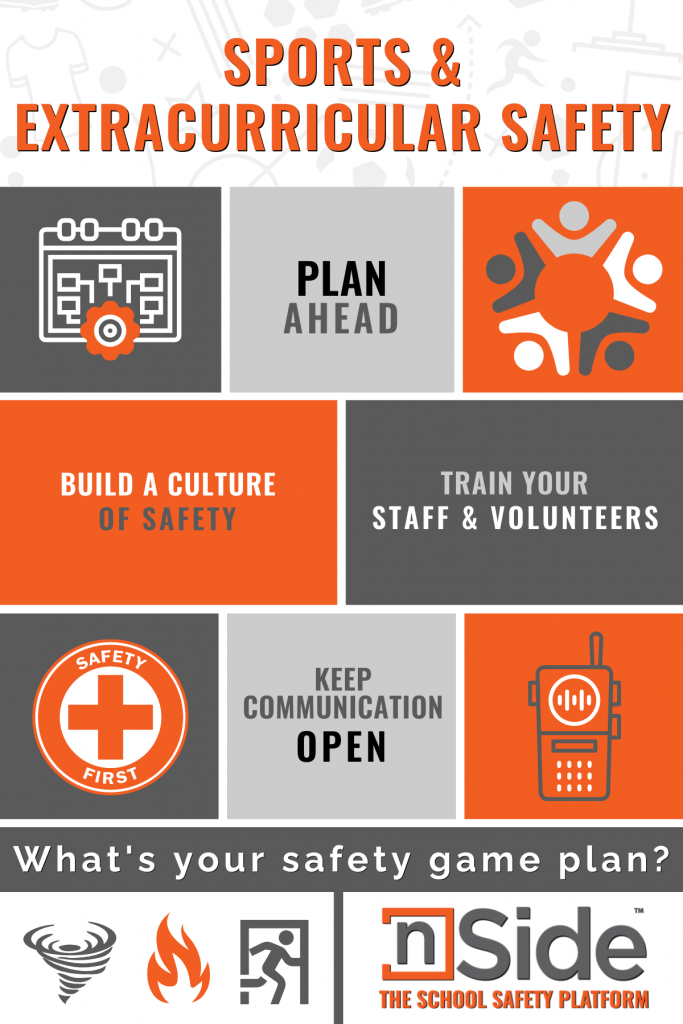 Planning Ahead
Planning is one of the most critical aspects of school safety. When it comes to extracurricular activities, there are few restrictions as to who can be involved. Therefore, it is important to have an effective method of communicating emergency procedures to staff and volunteers. Plan to share information with the appropriate people before, during, and after an event. This may include parents, coaches, law enforcement, students, administrators, etc.  If handheld two-way radios are available, distribute those in a way that communication can reach all areas of the event location. However, these events can be loud and distractions are inevitable. It is a good idea to make sure that staff and volunteers have their personal cellular devices with them, and that a mass communication app is being used.
It is also extremely important to include sporting events and extracurriculars in your Emergency Operations Plans. All faculty and staff should be trained in emergency plans for sports and extracurricular activities in case they are needed for these events. In addition, even when not working or volunteering, many faculty and staff simply attend these events in support of students. When trained to handle emergency situations, their presence adds to event security, since they know what to look for and how to respond.
Another important way to plan ahead is to familiarize yourself with the emergency procedures of the away venue. While most schools plan for the same things, that does not mean they plan the same way. You should also consider establishing a direct line of communication with the contact person and security team at the away location.
Severe Weather
Luckily, severe weather is a type of emergency that can usually be planned for well in advance. However, it can sometimes sneak up unexpectedly. In this case, make sure you have a clear protocol for weather delays and how they are to be communicated. Have a readily available and easily accessible shelter-in-place location in the event that there is an extreme emergency. Make sure your coaches, teams, and parents are familiar with the procedures as well. When traveling, it is always a good idea to also be familiar with the emergency protocols of the away venue. 
Fire
Unlike severe weather, it is nearly impossible to know when a fire will occur. In the event of a fire, no matter how big or small, it is important to have evacuation plans. When outlining your evacuation plans, make sure that you are not overlapping with emergency responders. For example, once they exit the building, you do not want people to be standing where a fire truck will be parked, or possibly blocking a fire hydrant. Having plans in place that take these types of precautions into account saves time when an emergency occurs.
Bomb Threat
Similar to fire procedures, a bomb threat requires an evacuation plan. It is important to note that not just anyone can recognize a bomb threat. With today's technology, these threats can present themselves in many different ways. It is critical to have members of your safety team that are able to identify any suspicious activity or suspicious items at an event. 
Another important thing to note is that many students make these threats with no intention of ever actually carrying them out. In this age of social media, these rumors and threats can spread like wildfire. However, it is always better to be safe than sorry. Have a designated person or persons that can communicate and  intervene in the appropriate way when this occurs. 
---
When we attend sports and extracurricular activities, we often take safety for granted. These events are designed to be fun and exciting for both students and the community. Taking a few extra steps before these events to ensure safety precautions are in place can help everyone feel more safe. Make sure your staff and volunteers are trained in emergency response procedures, and most importantly, make sure communication stays open and clear. 
The nSide platform is a valuable resource for your safety plans, including plans for sports and extracurricular activities. Contact us today to see how we can help you make your extracurricular events as safe as possible. Our support team is available 24/7 to answer any questions you may have. You can reach us by emailing help@nside.io, calling 1.800.604.1822, or by using our live chat function available on our website and in the platform.